Nippon Paint Lanka accredited by Great Place to Work®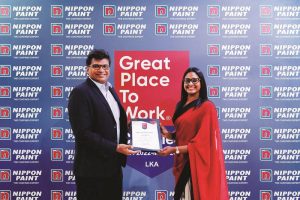 Mr. Nemantha Abeysinghe, General Manger – Nippon Paints Lanka (Pvt) Ltd receiving the accreditation from Ms. Hasini Abeywardena, Project Manager – Great Place to Work Sri Lanka
Nippon Paint Lanka (Pvt) Limited has been certified as one of the best workplaces in the country. The Japanese coatings company in Sri Lanka has received this recognition in the manufacturing and production industry category by the globally famed Great Place to Work®.
"We embarked on this to understand employee perceptions of the company. We are proud to have received this honor in our journey towards building and sustaining a high-work ethic, and performance culture," said General Manager of Nippon Paint Lanka, Nemantha Abeysinghe. "Being recognized as a 'Great Place to Work-Certified' organization is an honor and a tribute to the hard work, pride, and dedication put in by every member of Nippon Paint Lanka. We went the extra mile during the COVID period to extend to our employees, special working hours, perks and annual bonuses despite a countrywide lockdown. As a result, the company saw everyone dedicating their efforts more than two hundred percent to uplifting the business."
"Being certified as a Great workplace indicates that we have differentiated ourselves by creating a great place to work for employees and established Nippon Paint Lanka as an employer of choice. It has passed the rigorous measurement through analysis of results of the Great Place to Work® Trust Index© survey," Abeysinghe added.
Great Place to Work® research is backed by data compiled by assessing over 100 million employees around the globe. Every year, they conduct the world's largest study of workplace culture and hold the gold standard benchmarks for each country, industry, location and more. Companies that want to be on a Best Workplace list start by getting Great Place to Work-Certified™. Through the Certification process, they capture employee feedback and details about the programs and practices that make a workplace unique.
"We have six hundred and thirty-six members in the Nippon Paint Lanka team. Each one of them is very valuable to the success of our company. I congratulate them on this recognition of their contribution to our success," Abeysinghe concluded. END.
About Nippon Paint:
NIPSEA Group is a global leader, providing innovative solutions in the paint and coatings industry. Headquartered in Singapore, with more than 134 NIPSEA companies spread throughout 22 geographical locations, the group is Asia Pacific's No. 1 paint and coatings manufacturer in both production and sales revenue. After more than 50 years of growth, NIPSEA Group has over 26,000 employees with 94 manufacturing facilities and operations, efficiently serving all aspects of the business, from production to customer satisfaction. With a focus on maximizing value to their customers, the company pushes boundaries to deliver high quality solutions that work better for all their partners, tradesmen, and homeowners. The NIPSEA Group's arsenal of solutions for the industry covers Architectural, Industrial, Automotive and Marine Coatings, as well as a range of products beyond the world of paint and coatings. NIPSEA Group have an unyielding drive to focus on customers, providing innovation that works best for all the stakeholders.
About Great Place to Work®:
Great Place to Work®, headquartered in the USA, is the global authority on high-trust, high-performance workplace cultures. Through proprietary assessment tools, advisory services, and certification programs, including Best Workplaces lists and workplace reviews, Great Place to Work provides the benchmarks, framework, and expertise needed to create, sustain, and recognize outstanding workplace cultures. Great Place to Work provides executive advisory and culture consulting services to businesses, non-profits, and government agencies in over 60 countries across five continents, including Sri Lanka.
Follow Great Place to Work online at www.greatplacetowork.com or www.greatplacetoworksl.lk
About the Great Place to Work® Certified TM' Programme:
The 'Great Place to Work® Certified TM' programme recognizes organizations that have undertaken Great Place to Work® rigorous 2 lens model of the Trust Index© Employee survey and Culture Audit© people practice analysis framework and matched the global qualification criteria required to be a Great Workplace.