Shaping the Future Together, Inspired by You
NIPSEA Group believes in the philosophy of "Mutual Prosperity" to lead our sustainability agenda. We believe that the measure of success in a sustainable economy is characterised by business viability that goes hand in hand with protecting the planet and elevating livelihoods of communities in places we conduct business in. As such, we embed ESG considerations into our business operations to capture continued growth for both NIPSEA Group and the environment in which we are present.
Our sustainability strategy is centred around the five overarching pillars of Customer, People & Community, Environment, Organisational Health and Technical Capability.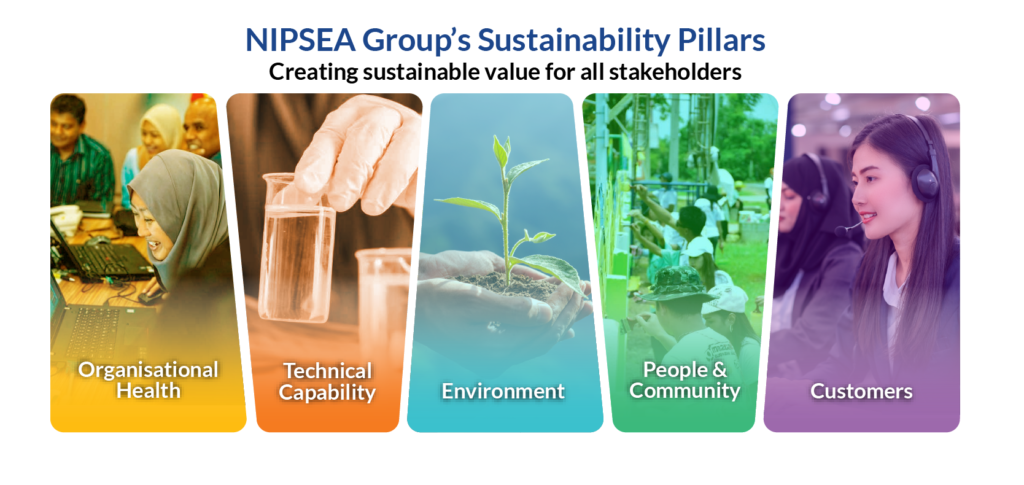 Ensuring continued economic visibility
2020 marked another year of continued success for NIPSEA Group in generating sustainable business value despite the COVID-19 pandemic. Advances in product and services innovation led to increased demands in our growing category of sealants, adhesives and fillers (SAF), while maintaining our strength in the architectural, automotive, industrial, marine and protective coatings segments. We also continued to make new strides on the environment and social sustainability front. Respectively, we focused on research and development to formulate innovative environmentally friendly paint products, and realigned assets and resources to serve the immediate needs of the community during the COVID-19 pandemic. Below, we share our FY2020 achievements as we continue to navigate sustainability-related issues and opportunities in today's business environment.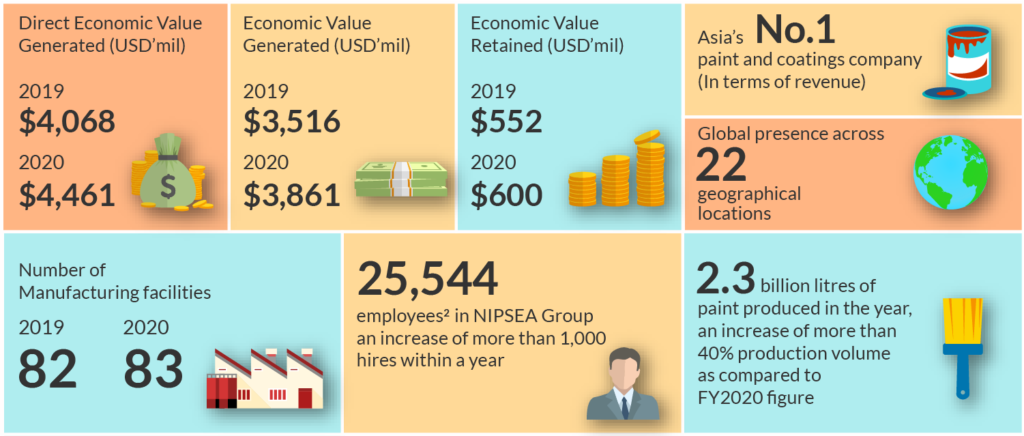 Customer-first innovation for a better life
NIPSEA Group is committed to a strategy of co-creation with customers, for customers, in our approach towards innovation excellence to unlock opportunities and deliver value that improve lives daily. We continue to build this commitment on the foundation of pivoting our resources in the areas of digitisation, and talent and people, to drive our competitive advantage in product innovation and process efficiency.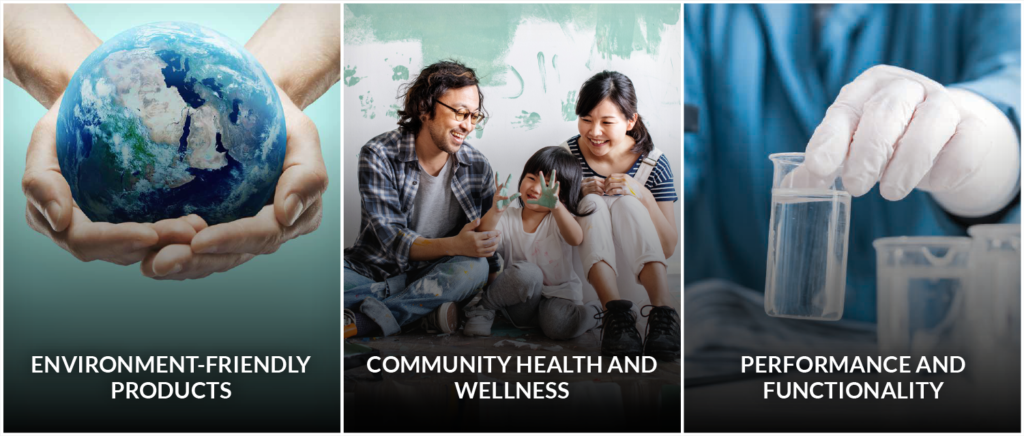 Advancing the planet-positive agenda
Climate change is one of the greatest challenges of our time and NIPSEA Group recognises our role in the management of our environmental resources.
NIPSEA Group's environmental approach strives to embed eco-efficiency within our operations while maintaining overall productivity. To do so, we work closely with our people to improve processes and conceive solutions that help us meet our planet-positive commitment. This also involves engaging with suppliers across our supply chain to influence positive change.
Upholding customer trust and confidence
NIPSEA Group's culture of integrity ensures that our product offerings deliver superior customer satisfaction and experience, while minimising any unintended negative impacts as a result of its consumption. We focus on two aspects that have been identified to be material to our customers – Health and Safety, and Data Privacy, across the customer value chain to build trust when engaging with them. This has allowed us to maintain our reputation as a leading paint solutions provider for almost 60 years.